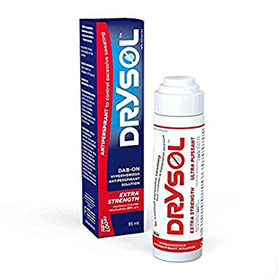 Active Ingredient:
ALUMINUM CHLORIDE : 20 %
(Use Drysol Mild for sensitive areas such as the face, back, and toes)
Drysol Extra Strength Dab-On Type 35ml & 60ml
(Dab-O-Matic)
Drysol Extra Strength Liquid (Dab-On Type) is suited for:
Sweaty underarms
Sweaty palms
Sweaty soles
Description:
Drysol Extra Strength Dab-On is an antiperspirant used to treat excess perspiration problems. This works in the toughest cases.
*Please note: There is a worldwide shortage of 35 ml and it is currently back ordered; the ETA is the end of September. There is plenty of stock for the 60 ml and it has the same applicator and is a better value.